I did a little research on tuning and found great advice from
the Toca website about tuning Timbale heads.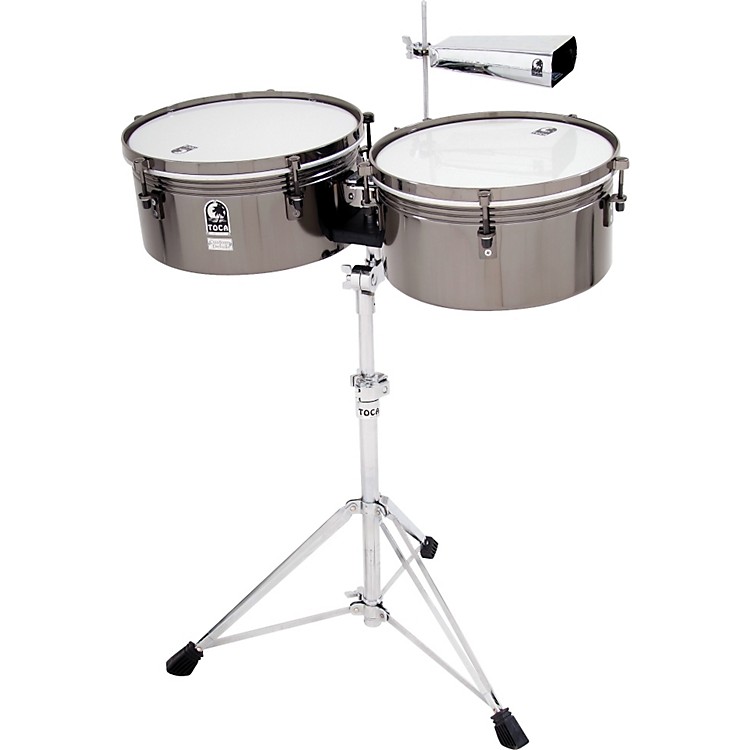 ---
All information is from this page:
https://tocapercussion.com/support/tips
---
Tuning
"Toca timbales come with high quality plastic heads. Your timbales will need to be tuned as they do not come pre-tuned from the factory. First, assemble drums on the stand. Use tuning wrench or drum key depending on the model timbale set you have and remove any ripples in the head that may appear. Pick a tension rod to start at and give it a turn counter clockwise. Do this to all tension rods, moving in a clockwise direction until you reach the point that you started from. Continue this process until you obtain the desired pitch. Once the desired pitch is achieved, tap the head 1″ in from each lug to get the head in tune with itself".
**There are many different tuning possibilities depending on your preference. The interval of a perfect fourth between the two drums is the most common tuning, however drums can also be tuned to the interval of a perfect fifth.
We recommend the following tunings using a piano keyboard.
Macho F 1 octave above middle C – A
Hembra C 1 octave above middle C – E
---
Information used by kind Permission from
Toca / RBIMusic – Mark Petrocelli (April 2023)